Furnitures Modern
Furniture Solutions. Affordable Prices.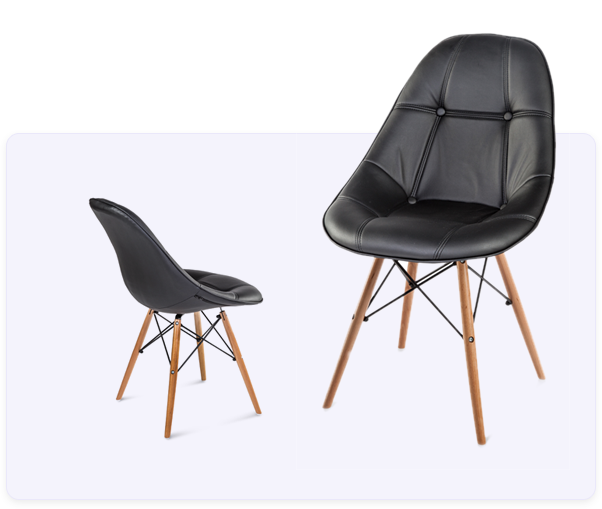 01
Best Selling
Chair
Chairs of all sizes, all colours and all designs. We have a large range of products in jundreds of designs from which you can pick your favourites. We make sure that every single piece becomes a best-selling model and we are sure you will like it. 
02
Unique design as
individual as you.
Introduction
Furniture in the form of tables, chairs, chests, bed frames and cupboards are a natural asset for the house and hence is necessary to keep them in good condition. An oil finish on wooden furniture is helpful in revitalizing the furniture. As a natural rule, to retain the sheen and texture of home furniture having oil-and-wax finishes or stain-and-wax finishes, they must be oiled at least twice a year. Oil is water and alcohol resistant, and hence durable in nature. The kind of natural glow that oiling shall bring, depends on the kind of oil applied and the way of its application. Overall, oiling is a good practice for home furniture, especially in winters, when they might dry up and crack, and oiling tends to moisturize them.
Types of oil finishes
Oil finishes protect and improve the appearance of unfurnished wood as natural oil present in the wood dries out over time. Oil finishes can be of various kinds. A linseed oil finish is rich and glossy and requires many applications for a good finish. The classic linseed oil mixture consists of a mixture of equal parts of boiled linseed oil and turpentine. There are many variations of linseed oil, the best of which is Mary Roalman finish and can be hand-rubbed to provide a natural glossy look.
Modern oil finishes like Danish oil and natural tung oil sealers are of far superior quality than linseed oil and require lesser reapplication. They provide penetrating finishes and should be applied periodically. Tung oil finishes are available in semi-gloss and high-gloss forms and also in many stain colors while Danish oil usually has a satin finish.
Hemp oil is also an ideal polish for home furniture. Hemp oil is produced from strong natural fiber and grown without the use of pesticides. Besides being easy to use and maintain, Hemp oil has low carbon footprint and eco-friendly in nature. Hemp oil dries to a matte finish and does not produce much of gloss. Its naturally thin viscosity penetrates porous surfaces well to revive old wood finishes. It is less durable and not as water resistant as pure Tung Oil, but is safe for food contact and can be used on wood items in the kitchens such as cutting boards and wooden utensils.
Application techniques
Before applying the oil the surface of the furniture must be thoroughly cleaned. The oil should be rubbed firmly into the wood and allowed to dry completely. Danish oil and tung oil dry more quickly than linseed and they can be reapplied after 12 to 24 hours; while Linseed-oil finishes must dry for about a week and drying takes longer in very humid weather. Do not recoat a linseed-oil finish until it's completely dry and with no trace of stickiness. Finally, after the first coat is completely dry, apply one further coat for Danish and Tung oil and around twenty coats for Linseed oil and rub each coat thoroughly. Finally, choosing your furniture finish should depend upon the nature of your furniture to give it the best look desired.
Beautifying and Sprucing up a bachelor pad can be incredibly challenging. A bachelor pad wholly portrays the unique preference of the occupant. Hence, his hobbies, interests and tastes, choice of colors, home furnishings and fittings as well as other details need to accentuate the occupant's distinctive personality and style.
Gone are the days when bachelor pads were just open spaces with recliners rather than sofas, futons rather than couches. Today's bachelor pads are welcoming, homely and a place people love chilling out.
In times past, a bachelor pad connote a fraternity home vibe but today's bachelor pads have grown beyond college settings, they are now rich in smart designs, furnishings and art.
Here are a few furniture ideas for bachelor pad
Couch and Sofa


The perfect furniture is fashioned with both relaxation and elegance in view, and everything right from your sleeping bed to chairs ought to offer twofold functionality. Big sectional sofas are perfect for the bachelor pad, with friends and visitors coming to the apartment almost every weekend and occasionally staying over the weekend
Considering that couches are generally one out of the major items and a notable feature of a room, it is advisable to choose masculine colors to match the painting and other accessories in the apartment. With regard to fabrics, synthetic couches are usually long-lasting and maintain their color for a longer time than other materials. Leather materials are generally tough and can withstand wear and tears. In cases where your bachelor pad has a single bedroom, a futon could be a smart idea to create more sleeping options for your visitors and friends.
Chairs and Stools
With regards to chairs, there are unlimited choices of chairs with diverse looks and usages. If you are seeking a portable one an occasional chair could very well be perfect. These are generally lightweight and much easier to move. A folding chair is also the best alternative for people who desire more portability.
Even though at times you'll love to sit back and relax your arms after a tedious work day, chairs without arms are usually more adaptable for tasks like tying your sneakers, shoes or boots or even using laptop computer.
Coffee Table
For a good number of bachelors, a coffee table is more than just a spot to have a hot coffee or a warm tea. Most coffee tables double as dining tables. These usages should determine the kind of coffee table that one should purchase. The design of the table is as well quite significant. But, the most important details are the form, materials and surface finish.
Bed Frames
It is advisable to go for a queen size bed at the very least. However if you aren't certain about the size you need to purchase, check out an affordable resizeable steel frame. Don't imagine putting your mattress on the floor without first visiting the household furniture retail outlet.
Bar Cart
This glass bar cart is an innovative accessory designed with the vibes of the bachelor's pad in mind. It features a number of bar storage and its mobile, which means it's equipped to follow the celebration and the party to any corner. It Satin-etched glass surface comes with an exceptionally soft finish that offers protection against fingerprints, scratches and involuntary spills.
It is designed to keep stemmed glasses within reach as well as lined grooves to reduce vibrations while the cart is on the move and the party is on. It is designed with a space for 12 wine bottles.
Dressers
Dressers are generally a versatile piece of furniture – they hold all of your clothes and keep your bachelor pad nice looking and uncluttered. However there are numerous designs and models to select from – The kind of dresser you ought to shop for is principally based on the type of clothing that you put on and the space you require.
We always think we know what we like, but when we enter a store and look at all the varieties, we get so confused. The same thing applies to furniture; we assume we know everything but the moment we enter the store we get so confused and even make unpleasant choices which you might regret later on. When it comes to buying furniture, it is something which we buy once in a while, and thus we need to make sure that we get something which can serve its purpose. Thus before buying furniture, you need to be clear on what you want, and the following are some of the questions you can ask yourself before deciding which furniture will suit you the best.
Consider your size and space:
If you are planning to get a couch for your living room, one of the first things you need to ask yourself is how big your living room is and how much of space do you want your couch to occupy. The measurements are quite important, and once you know them, it makes it very easy for you to buy the furniture which fits your room. Keep in mind that you do not want to overcrowd things in your home.
Who will be using the furniture?
There is plenty of furniture available, and depending on our need we make our purchases. If you are buying a bed, you can very well buy the bed of your choice as you will be the one who is using it. But when you buy something like a dining table you have to keep in mind your entire family and the buy the table accordingly. So before you buy to keep in mind the person who is going to use that piece of furniture and then decide if it will serve its purpose well.
Consider your budget:
Before we buy the furniture, we all will have a price in our minds and would make our purchases within that range. But the moment we enter the shop our eyes wanders off and the marketers in the shop convince you to buy something which is above the price range you had in mind. There is no harm in buying something expensive but take a moment and think if you need that furniture. If you know that the price ranges are exceeding your budget plans, then you should consider looking for other furniture.
Colour scheme and fabric of the furniture:
You need to make sure that your furniture will be able to reflect the mood and atmosphere you want in the room. You also need to keep in mind of the fabric. Depending on how you want to use it you need to select the fabric of the furniture. If you have pets or little children in the house, then you need to modify your purchases accordingly.
You are now all set to start your law firm, so get the best office furniture and supplies. We admit that we all look for having a swanky office to ensure we leave a lasting impression on the minds of our prospective clients. Setting up such a stylish office requires a generous budget. While going for office furniture, you cannot ignore quality at any cost. Here is a checklist of the most significant pieces of furniture and supplies you need for your law firm to start functioning.
Chairs: Invest in quality leather chairs with swivel options for you and other employees of the firm. Look for chairs with high backs and offering great lumbar support to make the long hours on the desk more bearable. The chairs with armrests make for the best buy because of the comfort they offer.
Tables: You have the option of going for glass-topped desks. However, typical lawyers' offices will always need to use plenty of books and heavy case files. Thus, go for heavy hardwood topped desks with drawers for the regular office work. Go for solid veneer and finish to ease maintenance regularly. Match these with the chairs to see if it complements the décor and not make the office look small in the process.
Shelves and Lockers: A practicing attorney will have plenty of belongings from files of cases to evidence and scores of court proceedings on paper. Invest in the best shelves for stacking these books and files. Label the shelves for easy indexing and simplified organization. Moreover, have the lockers as a part of office furniture for your law firm. Modern lockers with bio-metric locks are fire and waterproof to protect the papers safely.
Magazine Racks and Stands: Stylish magazine racks are essentials you never knew your office needed! These racks should be by the side of the clients' waiting area. They need not be too stylish, but at least should not be a dump yard of old papers.
Trashcans: At strategic points of your law firm, have the trashcans installed. Label them to ensure no one misses it even otherwise.
With these arrangements, your law firm will be all set to function smoothly. Ensure to deck up the office, making it convenient for use by you and your office employees on equal measure. With proper and cautious planning, your office will be bustling with clients in a very short time.
With FurnituresMordern I was simply able to turn around the look of my house into a beautiful palace and I least expected it. 
Jerry Chambers, San Francisco

Newsletter
Subscribe to receive inspiration, ideas
and news in your inbox.