Furnitures Modern
Furniture Solutions. Affordable Prices.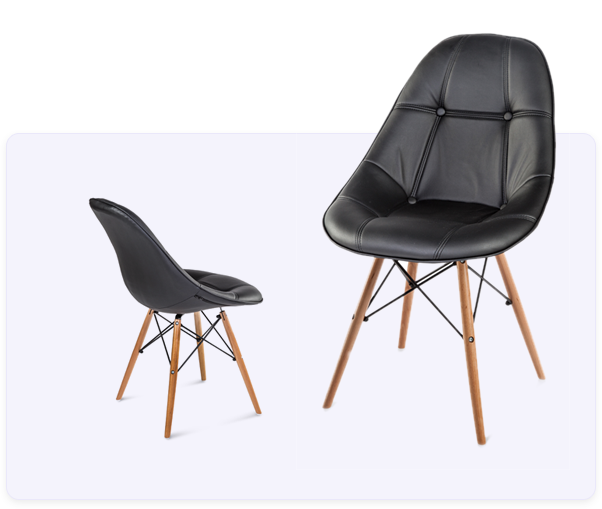 01
Best Selling
Chair
Chairs of all sizes, all colours and all designs. We have a large range of products in jundreds of designs from which you can pick your favourites. We make sure that every single piece becomes a best-selling model and we are sure you will like it. 
02
Unique design as
individual as you.
Beautifying and Sprucing up a bachelor pad can be incredibly challenging. A bachelor pad wholly portrays the unique preference of the occupant. Hence, his hobbies, interests and tastes, choice of colors, home furnishings and fittings as well as other details need to accentuate the occupant's distinctive personality and style.
Gone are the days when bachelor pads were just open spaces with recliners rather than sofas, futons rather than couches. Today's bachelor pads are welcoming, homely and a place people love chilling out.
In times past, a bachelor pad connote a fraternity home vibe but today's bachelor pads have grown beyond college settings, they are now rich in smart designs, furnishings and art.
Here are a few furniture ideas for bachelor pad
Couch and Sofa


The perfect furniture is fashioned with both relaxation and elegance in view, and everything right from your sleeping bed to chairs ought to offer twofold functionality. Big sectional sofas are perfect for the bachelor pad, with friends and visitors coming to the apartment almost every weekend and occasionally staying over the weekend
Considering that couches are generally one out of the major items and a notable feature of a room, it is advisable to choose masculine colors to match the painting and other accessories in the apartment. With regard to fabrics, synthetic couches are usually long-lasting and maintain their color for a longer time than other materials. Leather materials are generally tough and can withstand wear and tears. In cases where your bachelor pad has a single bedroom, a futon could be a smart idea to create more sleeping options for your visitors and friends.
Chairs and Stools
With regards to chairs, there are unlimited choices of chairs with diverse looks and usages. If you are seeking a portable one an occasional chair could very well be perfect. These are generally lightweight and much easier to move. A folding chair is also the best alternative for people who desire more portability.
Even though at times you'll love to sit back and relax your arms after a tedious work day, chairs without arms are usually more adaptable for tasks like tying your sneakers, shoes or boots or even using laptop computer.
Coffee Table
For a good number of bachelors, a coffee table is more than just a spot to have a hot coffee or a warm tea. Most coffee tables double as dining tables. These usages should determine the kind of coffee table that one should purchase. The design of the table is as well quite significant. But, the most important details are the form, materials and surface finish.
Bed Frames
It is advisable to go for a queen size bed at the very least. However if you aren't certain about the size you need to purchase, check out an affordable resizeable steel frame. Don't imagine putting your mattress on the floor without first visiting the household furniture retail outlet.
Bar Cart
This glass bar cart is an innovative accessory designed with the vibes of the bachelor's pad in mind. It features a number of bar storage and its mobile, which means it's equipped to follow the celebration and the party to any corner. It Satin-etched glass surface comes with an exceptionally soft finish that offers protection against fingerprints, scratches and involuntary spills.
It is designed to keep stemmed glasses within reach as well as lined grooves to reduce vibrations while the cart is on the move and the party is on. It is designed with a space for 12 wine bottles.
Dressers
Dressers are generally a versatile piece of furniture – they hold all of your clothes and keep your bachelor pad nice looking and uncluttered. However there are numerous designs and models to select from – The kind of dresser you ought to shop for is principally based on the type of clothing that you put on and the space you require.
We always think we know what we like, but when we enter a store and look at all the varieties, we get so confused. The same thing applies to furniture; we assume we know everything but the moment we enter the store we get so confused and even make unpleasant choices which you might regret later on. When it comes to buying furniture, it is something which we buy once in a while, and thus we need to make sure that we get something which can serve its purpose. Thus before buying furniture, you need to be clear on what you want, and the following are some of the questions you can ask yourself before deciding which furniture will suit you the best.
Consider your size and space:
If you are planning to get a couch for your living room, one of the first things you need to ask yourself is how big your living room is and how much of space do you want your couch to occupy. The measurements are quite important, and once you know them, it makes it very easy for you to buy the furniture which fits your room. Keep in mind that you do not want to overcrowd things in your home.
Who will be using the furniture?
There is plenty of furniture available, and depending on our need we make our purchases. If you are buying a bed, you can very well buy the bed of your choice as you will be the one who is using it. But when you buy something like a dining table you have to keep in mind your entire family and the buy the table accordingly. So before you buy to keep in mind the person who is going to use that piece of furniture and then decide if it will serve its purpose well.
Consider your budget:
Before we buy the furniture, we all will have a price in our minds and would make our purchases within that range. But the moment we enter the shop our eyes wanders off and the marketers in the shop convince you to buy something which is above the price range you had in mind. There is no harm in buying something expensive but take a moment and think if you need that furniture. If you know that the price ranges are exceeding your budget plans, then you should consider looking for other furniture.
Colour scheme and fabric of the furniture:
You need to make sure that your furniture will be able to reflect the mood and atmosphere you want in the room. You also need to keep in mind of the fabric. Depending on how you want to use it you need to select the fabric of the furniture. If you have pets or little children in the house, then you need to modify your purchases accordingly.
Buying furniture is both daunting and exciting at the same time. We do not buy furniture on a daily basis, we only buy it when we need it, and thus most of us are very cautious when it comes to buying furniture. We try to make sure that the furniture will serve its purpose and last for a long time. But even then due to certain situations we tend to make few mistakes which can have a great impact in your life.
The following are some of the common mistakes people make while buying furniture:
Buying without a plan:
Planning is essential in many aspects of our lives. Without knowing what you want you will end up buying something which is unnecessary. Before walking into the store, you need to make sure that you have a clear picture of what you want. Understand the spacing in your room and check if the furniture will fit into the room. Impulsive decisions might be great sometimes, but not always. Never make impulsive decisions when it comes to buying furniture as will not turn out to be good most of the time.
Buying without a budget in mind:
If you want to be financially independent, you need to make sure that you have a budget which tracks down all your expenses. Buying furniture is more like a onetime expenditure, you buy furniture, and it stays in your house for many years, and most of the furniture is quite expensive. If you don't have a budget, you need to make one and then come back to buying. You need to have a rough idea of the price range you can afford and make adjustments to your budget based on that.
Buying something for its price and not value:
Ignoring the quality for the price is one of the biggest mistakes anyone can do while making purchases. It is always advised to spend on something which has a higher quality so that it will last longer. Depending on your need you need to make your purchase. If you think that you want furniture which is not going to be used by anyone and its sole reason is to enhance the aesthetic look of your house or office, you don't have to worry about the quality.
Not testing:
You have all the rights to sit down and feel the furniture. You need to make sure that you feel comfortable in it. There is no point in complaining after making the purchase. Test if everything is working properly and check if there is a problem with the wood or the fabric.
There are many mistakes which people make while buying furniture but the above are some of the common ones, and you need to make sure that you do not make these mistakes when you buy furniture.
With FurnituresMordern I was simply able to turn around the look of my house into a beautiful palace and I least expected it. 
Jerry Chambers, San Francisco

Newsletter
Subscribe to receive inspiration, ideas
and news in your inbox.